Harlee Medical
Mark Your Calendar

Who: Texas Orthopaedic Association
What: 2017 Annual Meeting
Where: The Joule Hotel, Dallas, Texas
When: May 5-6, 2017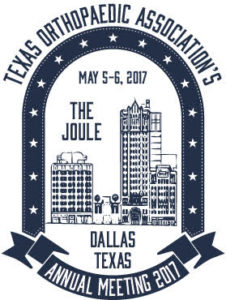 For the first time in over five years, the Texas Orthopaedic Association will return to the Dallas area.
The Joule is a luxury, Neo-Gothic hotel that was built in 1927 in downtown Dallas.  The hotel features two restaurants popular with Dallas residents and a subterranean bar.
The sponsor prospectus will be released in September. We will include several new sponsor opportunities for our Platinum sponsors in 2017 to present on their product or any topic of their choice during Friday's lunch.  Please contact TOA (Bobby@toa.org) if this would interest you.  It will be limited to several sponsors.
More details regarding the 2017 agenda can be found here.