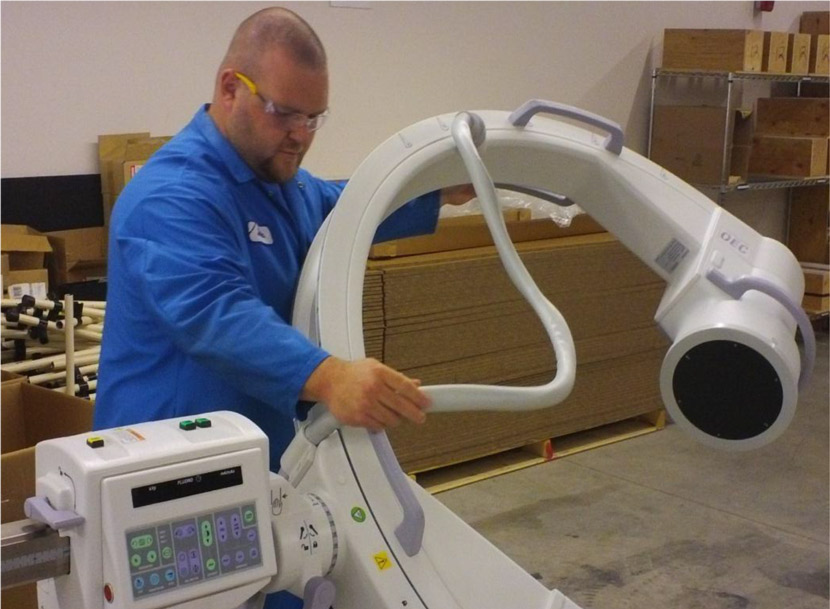 Refurbished GE OEC 9900
Our GE OEC refurbishing process for 9800s and 9900s starts with a complete decontamination process.
Our refurbishing process takes 30-40 hours for each c-arm.
All parts that do not meet current GE OEC factory specs are replaced with certified GE OEC parts.
All of our refurbished systems are shipped in the same specially designed crates as our new units…to protect them during shipment.
All of our refurbished 9800s and 9900s are covered by the same 1-year GE OEC factory warranty, service , training etc., as ALL GE OEC C-arms.
Only GE can guarantee the integrity of a Certified OEC C-arm – the hardware and software is built and tested to meet high quality standards.
The GoldSeal Certified OEC* 9900 Elite C-arm delivers precise images with the same simple operation as a new system, but at a price competitive with 3rd party vendors.  Features like articulating high-definition monitors, SmartMetal distortion control and patented DRM technology mean a GoldSeal Certified OEC 9900 C-arm will provide the imaging capabilities you need, even if a new OEC doesn't fit your budget.
Contact Harlee Medical at 713-665-5510 to determine configurations available for GoldSeal Certified OEC 9900 Elite C-arm systems.
Learn more with our GoldSeal brochure.
More Information:
Refurb – Ask Questions
OEC Refurb Process
OEC Certified Pre-Owned 9900